Bryan Acker – Celebration of Life – In Loving Memory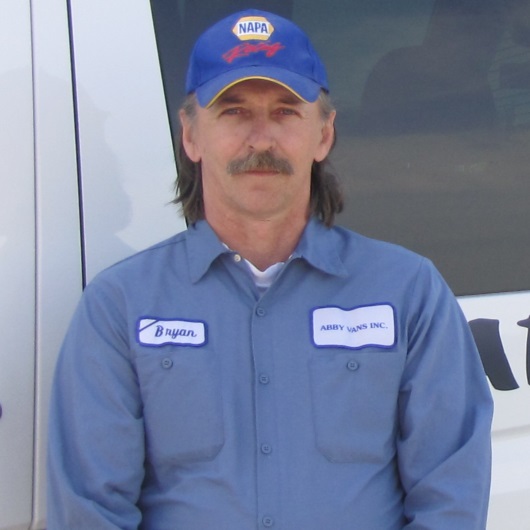 Abby Vans has had a devastating loss this past week. Bryan Acker- Abby Vans Fleet Manager was 58 years old and was involved in a fatal accident last week near Neillsville, Wisconsin. We have lost an irreplaceable man who has not only been the Fleet Manager of Abby Vans for the past 28.5 years but was considered family to all the Jones family. He was involved in all our children's and grandchildren's lives and was a favorite to all our family pets. He was not only the lead mechanic for Abby Vans extensive fleet but he was the caretaker for Todd road which he took care of with pride. He was not a man who kept set hours – he loved to come and go all hours of the day/weekends and just putter around doing odd jobs and take care of the place. He loved to drag the parking lot until it was perfectly smooth, or mow the trails and areas that needed mowing, he would catch those wily muskrats who would invade the ponds and you could see him casting at the end of the day for fish and get so excited when he caught a big walleye or bass. Bryan spent many nights eating at our dinner table sharing stories, and ideas on how to cook steaks, fish and wild game.
He truly was a remarkable man that was not only a phenomenal employee he was family to many who knew him. Bryan was one of those people who had a heart of gold and would help anyone who asked. He had a wonderful sense of humor, was a very sensitive soul and everyone just loved his laugh and the twinkle in his eye. He was a man with an amazing mind – he could find solutions and fix problems that many could not. You just had to give him time to figure it out. He could do almost anything he set his mind to do. He was a man of many talents. He loved to hunt, fish, ride motorcycle and was quite the pool player. He won many tournaments over the years. His coworkers and family will miss him dearly. His memory will live in our hearts forever. God speed Bryan you will be greatly missed.

Arrangements are as follows:
Sunday, February 3, 2019
Visitation
Celebration of Life in Loving Memory of Bryan Acker
American Legion Hall
3:00 pm – 6:00 pm
6 Boon Boulevard, Neillsville WI 54456
715-743-3859

Monday February 4, 2019
Visitation and Services
Cuddy Funeral Home
103 N Main Street, Greenwood WI 54437
http://cuddiefh.com/obituaries/view_details.php?oid=1182
Burial will be held in Greenwood City Cemetery, Greenwood, WI at a later date.